The Parthenon Group | Boston, MA
Project Size: 46,000 square feet | Completion Date: June 2013
The Parthenon Group is a boutique consulting and Private Equity practice based in the heart of the Boston's Financial District. After a city wide search for new office space a deal was struck to re-locate to the 5th and 6th floors of the Rowes Wharf building overlooking the active and historic Boston Harbor. The company took this opportunity to re-invent themselves aesthetically and create a legacy of style, efficiency and up to date technology for the ongoing success of the global practice. The nautical theme was developed to work with some of the millwork that existed in the space to create a feeling of 'State Rooms' and 'Promenades' as one would find on a 1900's luxury yacht. All millwork in these 'public' areas was painted high gloss white and interior furnishings were selected to further develop the yachting motif. After these initial entertaining rooms the bulk of the office was designed to be sleek and subdued in tones of chocolate brown, navy blue and white. By limiting the palette to these colors with accents of rich walnut veneers the offices are calming and elegant and do not distract from the views. Answer workstations by Steelcase were used in bright white and were organized into neighborhoods with loose collaborations areas and multifunction meeting rooms. The building's structure contains a slight curve in plan which we related to the curving sides or camber of a ship's construction. Walnut panels and glass DIRTT wall systems make up the State of the Art meeting and conferencing rooms which contain touch screen monitors for video conferencing, and ceiling mounted projectors and matte finished white boards for maximum collaboration opportunities. Additional open collaborations areas made up of small benches built as part of the workstations and loose seating promotes shorter informal meetings in keeping with the trends of Millennials in the workforce. Many private offices double a conference rooms when executives are frequently traveling.
Beam Interactive | Boston, MA
Project Size: 15,352 square feet | Completion Date: May 2013
Beam Interactive, a client who believes the words FRICTIONLESS, FANTASTIC and EFFECTIVE best describe their brand, engaged McMahon Architects to renovate their new corporate location. The site, a landmark building in downtown Boston, provided exposed concrete "bones" and a curved expanse of windows to serve as the perfect starting point for a simple design well-suited to such a client. A mixture of open collaboration spaces and glass enclosed conference rooms were created to encourage creative energy among designers. The concept maximized an open working environment supplied with ample natural light, with multifunctional, collaborative meeting and presentation areas. Selective use of bold colors in furniture and on select accent walls compliments a neutral palette of architectural surfaces and finishes.
Endurance International Group | Burlington, MA
Project Size: 38,000 square feet | Completion Date: 2012
Endurance International Group is a high tech web hosting company whose mission is to making the web a better place to deliver valuable services and solutions. EIG approached McMahon Architects to design a brand new headquarters in Burlington, MA that enables them to give state of the art support their clients 24/7 and give their employee's an exciting high-tech space in-line with the work they do. Located in a brand new LEED Gold building, Endurance's new space is day lit and open. Finished spaces on the interior open to exposed ceilings and raw steel columns bringing gritty industrial elements to clean lines of finished spaces. Endurance International Groups new space includes a 24/7 network operations center (NOC) and a new data center with generator back up. Employees have options of hosting meetings in several open collaboration areas or in numerous traditional private conference rooms. EIG's new space also offers their employee's a number of concierge level services including a full catering kitchen and serving area, a large dining area and lounge, a massage room, video gaming room and traditional ping pong and pool area.
Located in their new space for about a year, Endurance International Group has recently approached McMahon Architects to begin work on an adjacent expansion space and an interconnecting staircase.
Integration Partners | Lexington, MA
Project Size: 11,600 square feet | Completion Date: 2011
As one of the fastest growing companies in New England, Integration Partners has a long standing and successful relationship with McMahon Architects. This project is the fourth collaboration to provide architectural services in support Integration Partner's growth. The relocation included a free standing support generator and 24/7 cooling for the data center. Aesthetically, bright white walls and workstations are accented by bold splashes of color to create a sophisticated yet youthful branding for this high tech company. The open break room and frequent collaboration areas help support the progressive views of the founders. Both management and staff agree that the interior design solution has contributed to employee retention and a positive company-wide outlook.
Eliza Corporation | Danvers, MA
Project Size: 38,000 square feet | Completion Date: 2012
McMahon Architects worked closely with this energetic and open-minded executive team at Eliza corporation to develop a plan that offered multi-functional meeting, collaboration and work spaces - with built in flexibility to grow. Core to the company's culture, it was imperative that all employees have ample natural light and a healthy work environment. McMahon responded with a central core of interior offices facing the expansive 14 foot tall windows present on 3 sides of the new space. This preserved areas along the window line for small clusters of workstations organized in close proximity to ample meeting and informal collaboration areas. Central to the functionality of the company, McMahon designed a highly-flexible Network Operations Center that functions 24/7, and enables Eliza to manage their diverse network of Clients and Servers across the country.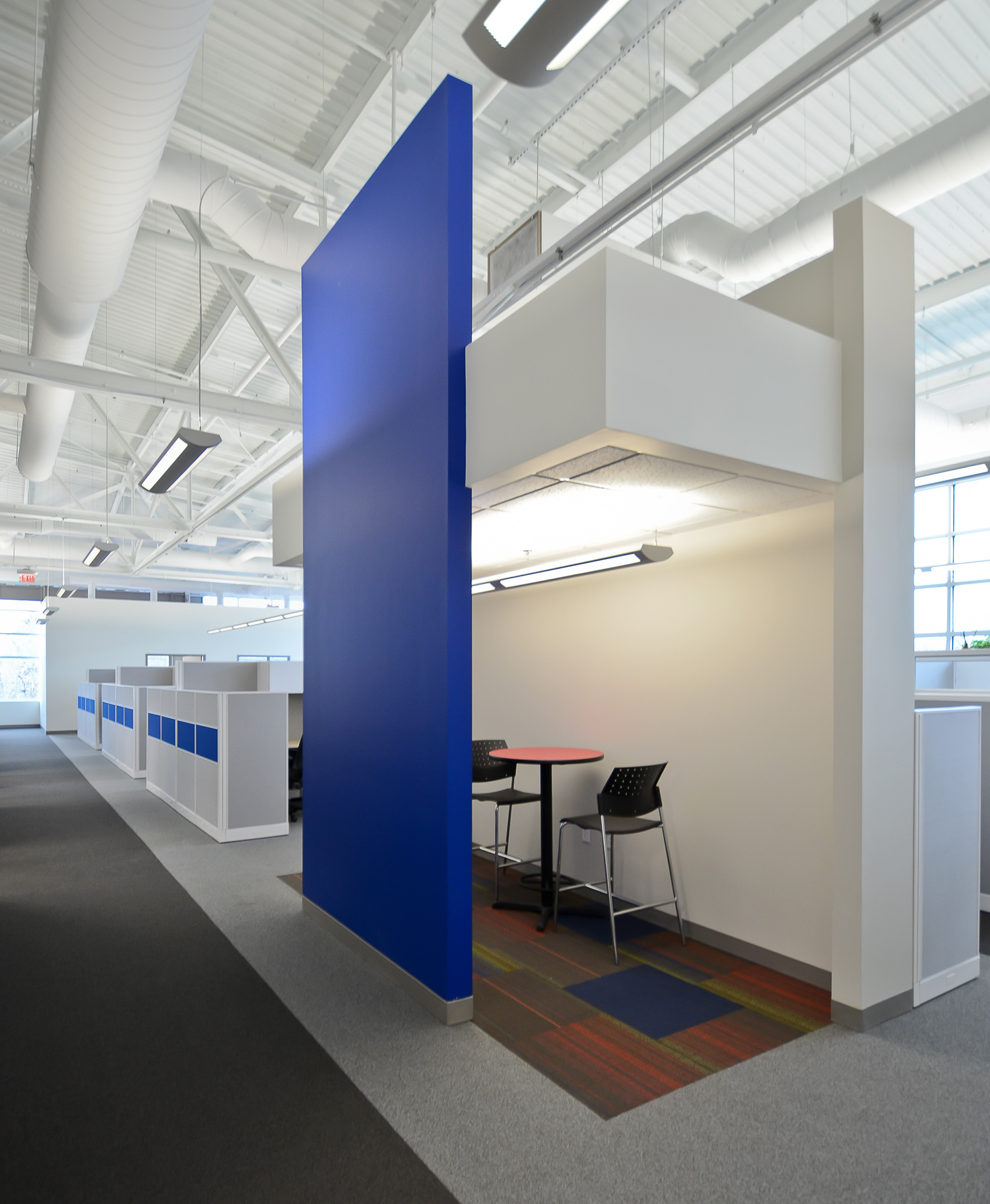 Arnold Worldwide HQ | Boston, MA
Project Size: 8 Floors - 120,000 Square feet | Completion Date: 2008
McMahon Architects created a new aesthetic and materials palette which established a lighter, brighter backdrop to showcase the global, award winning advertising work of Arnold Advertising. McMahon Architects' integrated workspace doubled as part of the 'new client marketing tour' - showcasing the use of state of the art technology. In addition to the 'neighborhood' studio spaces, McMahon Architects designed the renovation of the main reception lobbies - with a new connecting staircase and floating reception desk, central cafeteria, production facilities, executive offices, creative planning areas and a multimedia, technology-driven, client presentation facility.
Audax Group | Boston, MA
Project Size: 2 Floors, 44,000 square feet | Completion Date: 2010
McMahon Architects has worked on multiple projects for this aggressive private equity firm. Included in the scope were:
• New perimeter glass-fronted offices
• Interior workstations
• New reception
• Visitor area lobby
• New conference center
• New cafeteria with a connecting stair
• New monumental stair with a satellite café.
McMahon Architects developed a streamlined phasing plan to accomplish the project work while the company remained in their current offices.
Congress Wealth Management | Boston, MA
Project Size: 2,673 Square feet | Completion Date: 2011
McMahon Architects was hired to design a new space for a successful wealth management company in Boston's new and upcoming "Innovation District" at Liberty Wharf. From its reception and main conference room, this office offers spectacular floor-to-ceiling views of the surrounding Boston Harbor and historical fish pier. The open, transparent layout, generous use of glass and combination of modern and industrial design features such as exposed beams, columns and ceilings make this a unique office.
Michael, Ward & Rabinovitz | Boston, MA
Project Size: 5,300 Square feet | Completion Date: 2011
Now located in the heart of Boston's historic Beacon Hill district, this well established law firm has taken a fresh approach to the design of an innovative space and new brand image. McMahon created a unique expression that reflects the nature of this law firm's practice in litigation of civil, criminal and regulatory matters. The sophisticated design has a modern feel achieved by using a mix of bright and rich colored accent paints, textures and pattern. The reception area has a living room-like quality in the choice and arrangement of furniture. The design also incorporates and highlights one of the owners personal art and furniture collection.
.